Directed by
     ROBERT ZEMECKIS

      Screenplay by
      JAMES V. HART
           and
    MICHAEL GOLDENBERG

       Produced by
     ROBERT ZEMECKIS
      STEVE STARKEY

  Based on the Novel by
       CARL SAGAN

  Based on the Story by
CARL SAGAN and ANN DRUYAN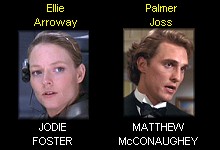 Ellie Arroway . . . . . . . . JODIE FOSTER
Palmer Joss . . . . .  MATTHEW McCONAUGHEY


Michael Kitz  . . . . . . . .  JAMES WOODS
S. R. Hadden . . . . . . . . . . JOHN HURT
Dr. David Drumlin  . . . . .  TOM SKERRITT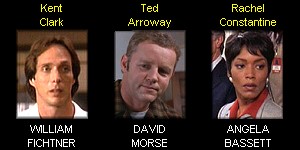 Kent Clark . . . . . . .  WILLIAM FICHTNER
Ted Arroway  . . . . . . . . . DAVID MORSE
Rachel Constantine . . . .  ANGELA BASSETT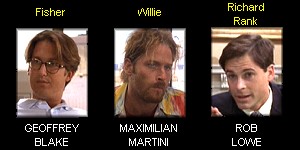 Fisher . . . . . . . . . .  GEOFFREY BLAKE
Willie . . . . . . . .  MAXIMILIAN MARTINI
Richard Rank . . . . . . . . . .  ROB LOWE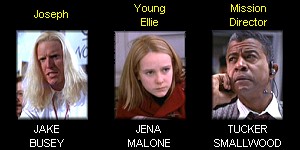 Joseph . . . . . . . . . . . .  JAKE BUSEY
Young Ellie  . . . . . . . . . JENA MALONE
Mission Director . . . .  TUCKER SMALLWOOD


                       CAST
               IN ORDER OF APPEARANCE

             Young Ellie  JENA MALONE
             Ted Arroway  DAVID MORSE
           Ellie Arroway  JODIE FOSTER
                  Fisher  GEOFFREY BLAKE
                    Kent  WILLIAM FICHTNER
                  Vernon  SAMI CHESTER
                   David  TIMOTHY McNEIL
           Cantina Woman  LAURA ELENA SURILLO
             Palmer Joss  MATTHEW McCONAUGHEY
           David Drumlin  TOM SKERRITT
                Minister  HENRY STROZIER
             Hadden Suit  MICHAEL CHABAN
                  Willie  MAXIMILIAN MARTINI
              Larry King  As Himself
           Ian Broderick  THOMAS GARDNER
         KOB-TV Reporter  CONROY CHINO
             Jeremy Roth  DAN GIFFORD
            Michael Kitz  JAMES WOODS
        Senator Valencia  VANCE VALENCIA
      Rachel Constantine  ANGELA BASSETT
         Donna J. Kelley  As Herself
             Leon Harris  As Himself
          Claire Shipman  As Herself
   Middle Eastern Anchor  BEHROOZ AFRAKHAN
         Japanese Anchor  SAEMI NAKAMURA
           Latina Anchor  MARIA CELESTE ARRARAS
           Tabitha Soren  As Herself
          Geraldo Rivera  As Himself
          British Anchor  IAN WHITCOMB
                Jay Leno  As Himself
           Natalie Allen  As Herself
         Robert D. Novak  As Himself
    Geraldine A. Ferraro  As Herself
              Ann Druyan  As herself
            Richard Rank  ROB LOWE
                  Joseph  JAKE BUSEY
        Kathleen Kennedy  As Herself
       Decryption Hacker  MICHAEL ALBALA
       Decryption Expert  NED NETTERVILLE
              Major Domo  LEO LEE
             S.R. Hadden  JOHN HURT
Chairman of Joint Chiefs  WILLIAM JORDAN
             Joint Chief  DAVID ST. JAMES
          Jill Dougherty  As Herself
             Drumlin Aid  HAYNES BROOKE
           John Holliman  As Himself
         Bobbie Battista  As Herself
           Dee Dee Myers  As Herself
           Bryant Gumbel  As Himself
            Linden Soles  As Himself
           Major Russell  STEVEN FORD
     Major Russell's Son  ALEX ZEMECKIS
Major Russell's Daughter  JANIE PETERSON
 French Committee Member  PHILLIP BERGERON
               Dr. Patel  JENNIFER BALGOBIN
British Committee Member  ANTHONY FIFE HAMILTON
   NASA Public Relations  REBECCA T. BEUCLER
           Voice of NASA  PAMELA WISLEY
        Mission Director  TUCKER SMALLWOOD
              Mechanical  JEFF JOHNSON
              Electrical  YUJI OKUMOTO
                Dynamics  GERRY GRIFFIN
          Communications  BRIAN ALSTON
              Pad Leader  ROB ELK
                Security  MARK THOMaSON
           Controller #8  JOSE REY
      New VLA Technician  TODD PATRICK BREAUGH
       Russian Cosmonaut  ALEX VEADOV
               Scientist  ALICE KUSHIDA
        Project Official  ROBIN GAMMELL
          Mission Doctor  RICHARDSON MORSE
         Japanese Ensign  SEIJI OKAMURA
            Bernard Shaw  As Himself
        Japanese Tech #1  MAK TAKANO
        Japanese Tech #2  TOM TANAKA
            Life Support  CATHERINE DAO
             Dynamics #2  KRISTOFFER RYAN WINTERS
           Woman Senator  VALORIE ARMSTRONG
             Reporter #5  JIM HILD
             Reporter #6  BILL THOMAS
              School Boy  DIEGO MONTOYA


---
Related Sites



I'm not interested in all Contact sites, only the better ones.
---
Ellie | The Signal | The Message | The Machine | The Journey | The Truth
Credits and Links | Comments | FX | Discussion



Post your comments and questions in the Discussion forum.
---
Contact is the property of Warner Bros.
This is an UNOFFICIAL fan site.
No trademark or copyright infringement intended.
---


---