Español / English




Books



The Original Compilations:

Mafalda (1966)
Asi es la Cosa, Mafalda (1967)
Mafalda 3 (1968)
Mafalda 4 (1968)
Mafalda 5 (1969)
Mafalda 6 (1970)
Mafalda 7 (1971)
Mafalda 8 (1972)
Mafalda 9 (1973)
Mafalda 10 (1974)

And Beyond...



10 Años con Mafalda (De la Flor, 1991?)

Selection of about 700 comic strips.
Interview with Quino, by Rodolfo Braceli (de la Flor edition).

La familia / La calle / El colegio / Asi va el mundo / Mafalda y la sopa / De vacaciones / T.V. / Guille / Susanita / Felipe / Manolito / Miguelito / Libertad

(c) Quino


---
Mafalda Inédita (De la Flor: 1989, Lumen: 1990)

Collection of strips not included in the first 10 books.


---

Toda Mafalda (Lumen: 1992, De la Flor: 1993)

Prólogo / Visitas Ilustradas Mafaldas (Casi) Privadas / Mafalda Tira a Tira / Mafalda Inédita / Mafalda Mucho más Inedita / Los Personajes Como Solistas / Mafaldas Sueltas / Los Años de Quino y Mafalda

The Spanish and Argentine editions of Toda Mafalda are different (I assume the Spanish edition has contributions from Spanish cartoonists).

(c) Quino


---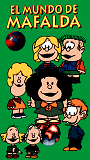 El Mundo de Mafalda (the movie)

1981, Daniel Mallo
Compilation of shorts previously shown on TV.

(c) Quino



---
Want to find books and videos? Go to http://www.amazon.com/ and do a search on 'Mafalda'
(Thanks to Yadira for the idea.)


---
Mafalda was Published by:
Ediciones de la Flor S.R.L.
Anchoris 27 (1280)
Buenos Aires, Argentina

A More Recent Address:
Ediciones de la Flor S.R.L.
Gorriti 3695
1172 Buenos Aires
Argentina
In Spain:
Editorial Lumen, S.A.
Ramon Miguel i Planas, 10 - 08034
Barcelona, Spain
---
Disclaimer and Copyright Notice
Mafalda and all related characters are Copyright (c) Joaquin Lavado / Quino.
This is an unofficial, nonprofit fan site, not affiliated with, or authorized by Quino. No infringement of copyright is intended.
Design and original content are Copyright (c) Turning Pages.
---
Mafalda · Characters · Books · Gallery · Mini-FAQ · Wallpaper · Icons · Links
---


---